The Great Goth 'N' Roll Swindle?
Where bands of other cities had such visionaries as Malcom Mclaren and Tony Wilson. Coventry's Deadfilmstar had Pete Waterman..
Undeterred and finding sanctuary in the back pages of Metal magazine 'Kerrang', Deadfilmstar fought hard to survive in an already oversaturated market. Ultimately they needed a way out and the unsuspecting world of Goth and all thing's Industrial had left it's back door wide open.
To date, Deadfilmstar have toured the UK with Mortiis and KMFDM, appeared at Bloodstock Open Air and Whitby Gothic Festival's, shared many a stage with Combichrist and Toyah Willcox , played main support to legendary cult Gothic bands Christian Death and Sex Gang Children.and have an upcoming date with the electro -industrial heavyweights Orgy.

more...
less...
Releases:
The Inevitable Rise & Fall Of Fake White & The Ill Fated Tour - due late 2014 / early 2015
A.rtistic I.ntegrity - Nightbreed Records CD056
more...
less...
---
---

---
---

---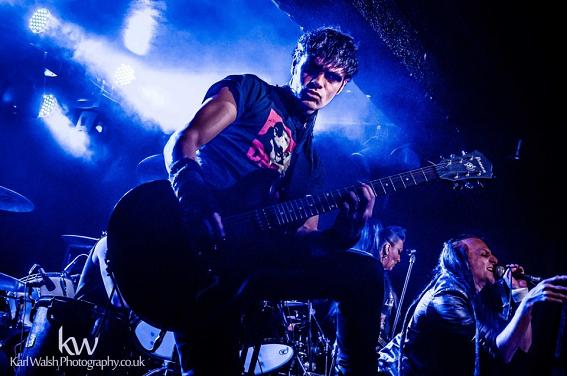 Live dates:
2014
Friday 15th August Newcastle The Cluny main support for Protafield (Jayce Lewis) with Parasis & SystemYK
Saturday 24th October Birmingham HMV Institute supporting Toyah Willcox with Erica Nockalls & Among The Echoes
Friday 28th November Birmingham HMV Institute supporting Orgy with Deviant UK
Saturday 17th May Leamington Zephyr Lounge ( Assembly Rooms ) main support for Christian Death
Saturday 24th May London The Garage main support for Sex Gang Children with Nine Day Decline and BO-ne
2013
Saturday 21st December London Electrowerkz supporting Combichrist (electro set) with Das Kapital AG
Friday 24th October Wolverhampton Robin 2 supporting Toyah Willcox - one date on Love Is The Law Tour with Alexa De Strange & Among The Echoes
Friday 19th April Nottingham Rock City supporting KMFDM & Sheep On Drugs - one of two dates on the We Love You Tour with Renoized
Sunday 21st April Manchester Academy supporting KMFDM & Sheep On Drugs - one of two dates on the We Love You Tour with Resist & SinnerGod

2012
Monday 25th June Newcastle Northumbria University supporting Combichrist - one date on The Evolution Tour with Jayce Lewis & Surgyn
Saturday 28th April Wolverhampton Robin 2 supporting Toyah Willcox - one date on The Changeling Resurrection Tour with Tenek / Soley Morning & Andi Fraggs

2011
Friday 18th November Leamington Assembly Rooms supporting KMFDM - one date on the WTF? UK Tour with Army Of The Universe / Goteki & Cease2Exist
Tuesday 13th September Birmingham Eddies main support to Covenant with Method Cell
Wednesday 29th June Leamington Spa The Assembly supporting Combichrist / Mortiis & Aesthetic Perfection - one date on the Monsters On Tour UK
Saturday 16th April Birmingham HMV Institute main support to Toyah Willcox - one date on the From Sheep Farming To Anthem Tour with Drag & Vera

2010
Saturday 4th December Birmingham Eddies supporting The Young Gods
Sunday 1st August Birmingham Eddies supporting Combichrist with Rabia Sorda & Dismantled
Friday 30th July Birmingham Eddies supporting Punish Yourself with Deadcell & Wrapped In Plastic
Thursday 1st July Wolverhampton Slade Rooms supporting KMFDM - one date on the Kein Mitleid Tour with Alterred
Wednesday 12th May Birmingham Eddies supporting Die So Fluid with Black Sonic & Winterstorm
Friday 23rd April Birmingham The Asylum supporting Toyah Willcox with The Gundogs & Last 3 Victims
Saturday 27th March Wolverhampton Robin 2 supporting Toyah Willcox with Last 3 Victims
March 6th London The Slimelight with Midnight Configuration / Inertia & Lupine
Feb 6th Wolverhampton Robin 2 main support to Sigue Sigue Sputnik with You And What Army & Oak

2009
Nov 14th Birmingham Eddies supporting Dope Stars Inc & KIK
Sept 25th Birmingham Eddies (downstairs) 1st Birthday Bash with support from Wrapped In Plastic
March 7th Birmingham Eddies Legion:Gothica with many bands - Killing Miranda's Alien Dave played guitar for us on this show

2008

August 29th Coventry The Tuns with Hell Raised & Wrapped In Plastic
August 15th - 17th Derby Bloodstock Open Air Festival - Scuzz TV Unsigned Stage

2006

October 7th Coventry The Jailhouse with Pro-jekt & Wrapped in Plastic
April 19th - 30th supporting Mortiis - all dates on the Soul In A Hole UK Tour with Gothminister April 30th Manchester Satans Hollow
April 29th London Underworld
April 28th Sheffield Corporation
April 27th Norwich Waterfront
April 25th Liverpool Barfly
April 23rd Camberley Agincourt Rock Venue
April 22nd Bradford Rios
April 21st Glasgow Cathouse
April 20th Bristol Bierkeller
April 19th Nottingham Rock City

2005
Sept 25th Birkinhead Hex with Killing Miranda / 616 Abortions / Way Of All Flesh / Voices Of Masada / Rome Burns & Flight
June 18th Coventry The Jailhouse with Devilish Presley & Sci-Fi Mafia
May 14th Bradford Carp'e Noctum 1 In 12 Club with 616 Abortions & Action Directe
April 22nd Leicester The Attik supporting Devilish Presley

2004

July 24th Bradford Malediction Festival with Manuskript / Skeletal Family / 616 Abortions / Screaming Banshee Aircrew & Devilish Presley

2003

August 3rd Coventry The Jailhouse (afternoon show) [14+] only band
July 12th Bradford Carpe Noctum 1 In 12 Club only band
July 5th Coventry Platform 5 [Twisted ] only band
April 11th Whitby Gothic Weekend Festival with Ghost Of Lemora / Torsohorse & Scary Bitches

2002

November 2nd Coventry Platform 5 support from Frakkture
September 14th Bradford Carpe Noctum 1 In 12 club supporting Squid
May 31st Coventry Platform 5 only band
May 5th Birmingham The Mercat supporting The Last Days Of Jesus
March 15th Coventry Platform 5 only band

2001
Oct 30th Coventry The Colin Campbell support from ?
Sept 19th Coventry The Dog & Trumpet only band
June 27th Coventry The Dog & Trumpet support from ?
May 22nd London Hope & Anchor with Zero Cipher & ?
April 18th Coventry The Dog & Trumpet support from Viable / Gunstar Heroes & Faithful Lemons

Gig's asKNO

2000
Nov 11th Coventry The Colosseum supporting Kill II This / Skindred with Djevera
Oct 31st Coventry Dog & Trumpet with support from Viable & Gunstar Heroes
Sept 18th Birmingham The Foundry supporting Phsyco Nation & Gunstar Heroes
April 21st Coventry The Colosseum with support from?

1999

Dec 28th Coventry The Colosseum with a Black Sabbath tribute band / Tra La La & Viable
July 4th Coventry Flanker & Firkin only band
June 24th Coventry Lady Godiva only band
more...
less...